Missions Conference 2017
5 October 2017
8:00 PM
Main Church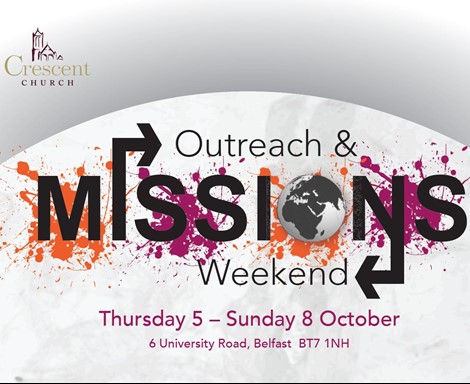 Our annual Mission Conference is back again for another year!
All are welcome to come and hear the encouraging stories from missionaries all around the globe of how Christ's Kingdom is growing and the message of Salvation is spreading to all people!
Summary
Summer Team Reports - Thursday 8:00-9:00pm
Youth Evening - Friday Night Rallies
Man2Man - Friday 7:30-9:00pm 
Young Adults & Families - Saturday 10:30am-12:00pm
Ladies Afternoon - Saturday 3:30-5:15pm 
Missionary Reports - Saturday 7:30-9:00pm
Sunday Services - 11:00pm & 7:00pm 
Upcoming Events
Explore the events and services coming up in the life of our Church.
Next Steps
What's Yours? Next steps are for everyone. We're all at different stages of a journey from discovering God to becoming more like Jesus. Would you like to Explore Christianity?