Go into all the world and proclaim the gospel to the whole creation. Mark 16:15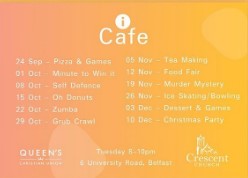 iCafe is an event for international students that takes place each Tuesday evening from 8-10pm during term-time. At iCafe we arrange various events followed by a time to chat over tea and coffee and listen to a short explanation of the Christian faith. We enjoy cultural experiences from across the globe, eat delicious foods and also learn practical skills which aim to help the students during their time in Belfast. 
The team of volunteers include members of Crescent Church and also local students from Queens Christian Union. Each evening international students of all faiths are very welcome to attend the iCafe bible-study at 7pm when we explore the bible in greater depth and discuss various issues.
If you are an international student please come along - you are really welcome!
All activities currently suspended - some groups are meeting online. Contact [email protected] for details