Tuesday fellowship is for everyone and is convened to meet the needs of all of our members and their friends. We meet on the third Tuesday of each month from 10:30am until 1pm. The Tuesday Fellowship is for members and friends or colleagues, young and old, who  are free to attend.
From 10:30-11:30 coffee and scones are available to enjoy alongside the morning papers as you chat with friends or indulge in a game of indoor bowls.
At 11:30 we gather in the Minor Hall singing our favourite hymns and choruses around the piano in a friendly and informal setting, followed by a short epilogue.
Finally lunch is at around 12pm each day before we part our ways at 1pm.
Feel free to come along for all or part of the morning, drop in and have a coffee and go again if you can't spare the time. We will be glad to see you.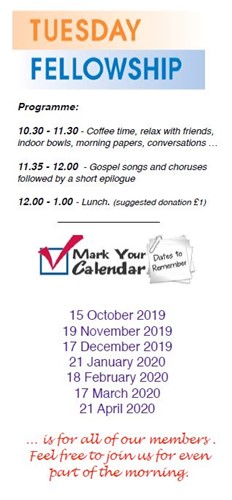 All activities currently suspended - some groups are meeting online. Contact [email protected] for details